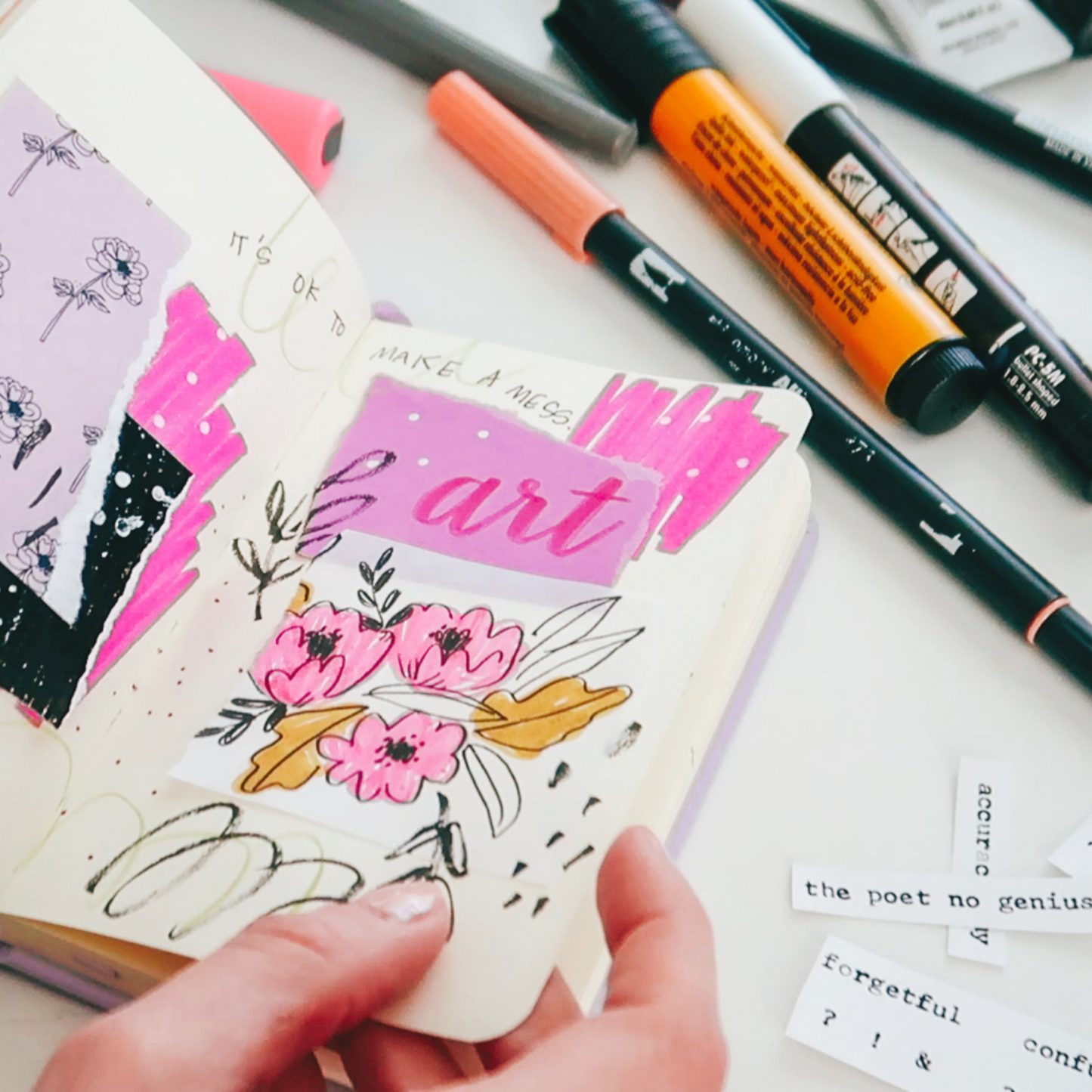 up for a 7 day art journaling challenge? announcing my new class!
I'm excited to share that I've just released my new online class! 🎉
It's called 10-Minute Art Journaling: A 7-Day Challenge to Conquer Artist's Block and it is now live on Skillshare.
With just a few supplies and limited time to work, art journaling is a great way to push through artist's block and rediscover the joy of creating art.
In this class, we'll explore art journaling with limited time and limited supplies to help you reconnect with your creative passion. Together we'll set up a small art supply kit and establish an art journaling practice in just 10 minutes a day. Draw, paint, write, and collage with me for this 7-day challenge using the daily art prompts provided in class.
This class is for anyone needing inspiration and looking to loosen up in their artwork. Whether you're struggling to overcome artist's block or looking to establish a creative hobby for the first time, this class will help you develop a daily art journaling practice to strengthen your creative muscles.
Looking for a new creative hobby? Struggling to overcome artist's block? Feel like you don't have time for either? This will be just the class for you!
In this class, we'll cover:
Creating art quickly with limited supplies to boost creativity
How to set up an art journaling practice to fit into your busy schedule
Making decisions intuitively to push past perfection and strengthen creative confidence
Using reference photos, your imagination, and intuition for inspiration
Tips and tricks for continuing your journaling practice beyond the class
I've had a lot of fun developing this class, and I'm so excited to finally post it. You will need a Skillshare membership to watch the class. If you don't already have a membership, I have a link for you to get one month free of a Skillshare membership so that you can watch all 3 of my classes and try out the platform.
If you do take my new class, a review on Skillshare would be much appreciated as it will help me promote the class. Thank you so much for your support!