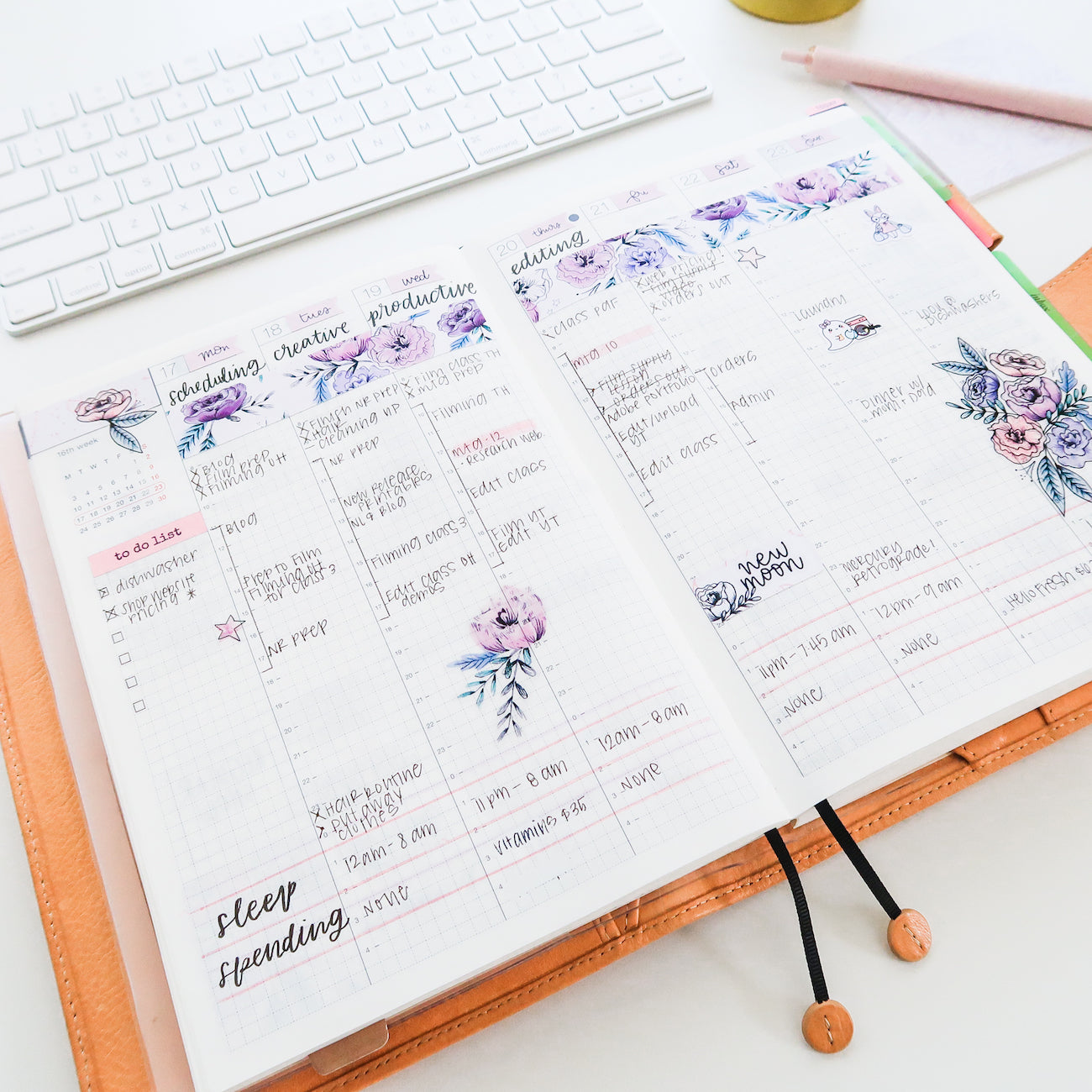 How I Plan a Week in My Hobonichi Cousin & Ideas for What to Track in Your Planner
Lately, I've been leaning heavily on the weekly pages of my Hobonichi Cousin planner. In this post, I'm sharing how I set these pages up each week, what I like to track, and how my weekly spreads look.
If you're unfamiliar with the Cousin, it includes monthly, weekly, and daily pages for the entire year - all in one notebook, thanks to the thin but mighty Tomoe River paper. The weekly section has felt like a struggle, but lately, I have finally found a groove with how I like to use these pages.
Experimenting with my planner
This year I've taken an attitude of experimentation. Sometimes I get too caught up with what exactly to write in my planner, and I don't end up using it nearly as much as I could. So from the first week of January, I decided I would write down whatever I felt I needed and allow a more defined system to develop over time.
So each week, I will take a look at the prior week and figure out what worked and what didn't, as my planning needs tend to change as the seasons change. For example, I might track what I am reading if I am in a reading slump, but won't do this in the Winter - as I find it more appealing to snuggle up with a good book when the weather is bad, and I naturally read more often.

Using planner stickers functionally
Stickers keep my planning fun, and motivate me to pick up my planner! By rotating the stickers I use, I feel like I have a fresh new layout every week. I like to choose coordinating markers or highlighters to match my weekly stickers.
Sometimes I will use a printed or printable sticker kit and other weeks I will use random decorative stickers. On Sunday, I usually pick out a handful of new stickers to use for the week and place them in my planner cover to have them within my reach all week long.
It's satisfying to flip through a filled planner, and stickers help the important events to stand out as I'm quickly flipping through.
What to track in the weekly spread
In the Hobonichi Cousin weekly pages, you'll typically find my work schedule, to-do lists, appointments, meetings, and social events, and my priorities for the week. Here are some other categories I have included in my weekly pages as needed. Steal these tracking ideas for your own planner!
Work priorities

Personal priorities

Work hours

Gratitude

Currently: reading, watching, eating, listening to

Word of the day

Daily progress on goals

Cleaning list

Errands

Bills

Incoming packages

Outgoing packages

Weekly habit tracker

Sleep hours/bedtime

What I'm reading

Amount spent/what I purchased
So, I hope you enjoyed seeing an updated peek into the weekly planner pages in my Hobonichi Cousin. What kind of things do you track in your weekly planner? I'd love to hear about it in the comments below!