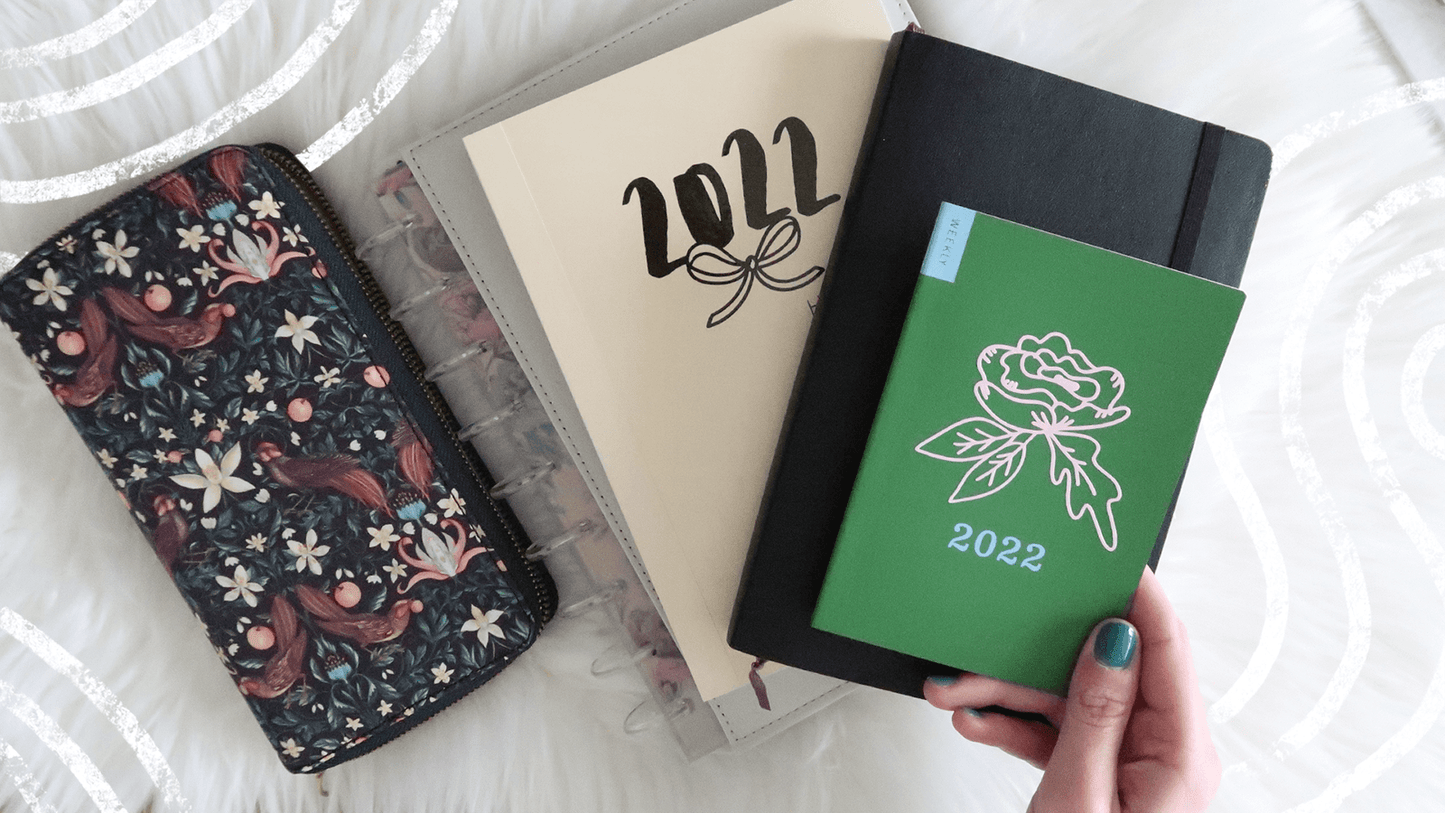 Happy New Year!

It's that time of year where we get to dive into our new planners, and I couldn't be more excited to share my planner setup with you. My planners tend to change as my planning needs evolve throughout the year, so I wouldn't say this is 100% set in stone. But nonetheless, exciting!

I also filmed a YouTube video sharing my 2022 planner setup, so be sure to click over to YouTube if you'd prefer to see it in video form.

My planner lineup consists of 3 main planners. Let's take a look at each!
Hobonichi Weeks
I quickly moved into my Hobonichi Weeks in December 2021 as soon as the planner began. I absolutely love this thing! I have it housed in my Hobonichi zip cover with a Liberty Fabrics design. It functions as a wallet for me as well as on the go planner, and holds all of my personal plans.
Happy Planner
From my work planner, I've decided to use a Happy Planner in classic size. I've divided this planner into several sections, including a goal setting section, a planning section, a reference section, and notes section. In my goal setting section, I'm using my free printable goal workbook for 2022. For planning, I use a vertical layout where I write down my daily work tasks and any appointments or meetings. I love the classic page size for brainstorming and sketching out my project ideas. It's also large enough to hold all of my reference information that I frequently look at while I'm working.
My daily journal
For the final notebook in my 2022 planner system, I am still trying to figure out what I want to use. I'm torn between a Moleskine daily journal or my tried-and-true Hobonichi cousin. Either way, this notebook will be the place where I do my daily journaling. For me, I journal using any method my heart desires and it changes depending on the day. It could be venting about my day, brainstorming new projects, gluing in photos and memorabilia, or anything else I feel like. I always keep my daily journals and I love to look back through them to see how I've grown and how my life has changed over the years.
And that concludes the lineup! I'd love to know what planners you're using for 2022. Definitely leave a comment below to let me know!