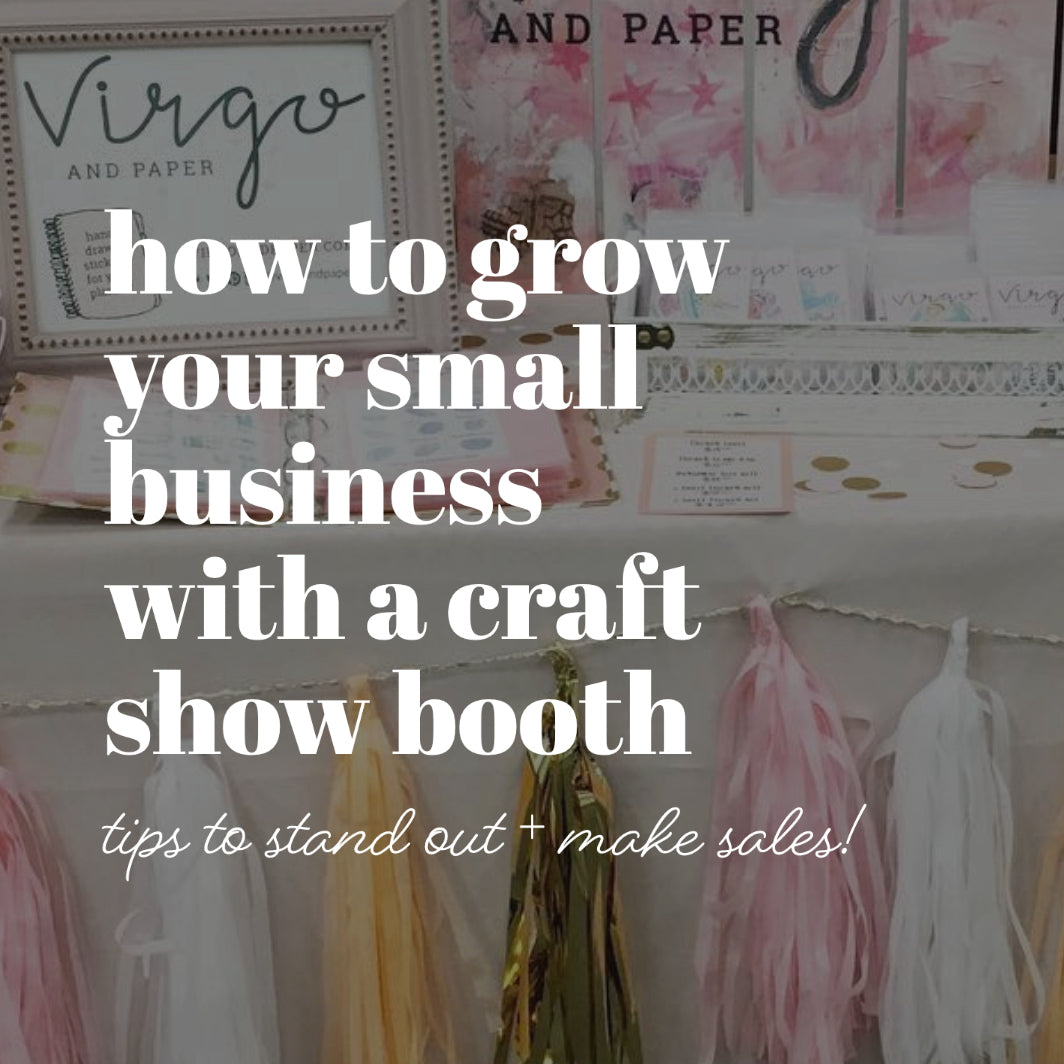 How to Plan a Successful Craft Show Booth That Stands Out to Promote Your Small Handmade Business
This blog post is inspired by one I wrote back in 2016, after putting together my first craft show booth to sell my planner stickers in person at a conference. My recap blog post from back then has generated a lot of views on Pinterest, so I thought it was time for an updated post!
Although exhibiting at in-person markets is no longer a part of my business today, I still think selling at craft shows is a wonderful way to grow your small handmade art business. In this post, we'll discuss the preparation process for the event, how to style and decorate your booth, making sure you're ready for the logistics of selling in person and creating a great customer experience.
My friend Lindsey Barney of Western Wildflower Studio was kind enough to contribute to this post, sharing lessons she learned from exhibiting at Pinners Conference and other craft shows. Lindsey knows the joy and challenges of selling in person and has some great advice that you'll find sprinkled throughout the post.
You'll also find some fun throwback pictures of my first booths and a couple other events. Alright, let's dive in!
Preparation Process
Although preparation is needed to sell your crafts in person, I've found that it is worth the time and effort to make a day at your booth so much more enjoyable.
My prep process begins as soon as I commit to an event when I decide what kind of inventory to take and start prepping those items. Give yourself enough time to order more stock or create handmade items far in advance.
At least a month out, I'll start sketching ideas for my booth and making lists of all the supplies needed to organize my inventory and decorate my booth. I'll order any custom signs, business cards, display props, or anything else I need.
Finally, I'll mock up my display to ensure it's perfect, and pack everything neatly into bins for the event.
Styling
How do you choose to style your display? Recognizable branding will help your booth to really stand out, and color is the most important element in making your booth memorable for customers.
Lindsey Barney agrees that booth setup is crucial. She says, "Make it easy for people to navigate through your booth, and look up a lot of ideas so your booth looks spectacular. Pinterest is a great place for this. Make sure you keep it looking clean! Have a tablecloth over the table where you are accepting money so that you can tuck things under the table and out of sight."
To decorate, I like to envision bringing my website to life. I recommend sticking to one main color for your tablecloths, sign, tags, or stickers for your items, and shopping bags, and one accent color like black, white, or gold for display items such as shelves or baskets. Signage is really important as well. A sleek neon sign or a farmhouse-style wooden sign gives a very different impression to visitors of your booth - so I like to consider how my branding is conveyed through every single item in my display!
The best tip I have for styling your booth is to fully mock up your display ahead of time. I have a folding table I use to set up all of my decor and organizational stands and bins at home before the event. This will help you coordinate colors, figure out how to convey your branding, and make pricing and signage clear to customers. You'll also be able to see if you have enough inventory to fill the display and whether you need to purchase some last-minute supplies.
When you're happy with the setup of your booth, take a photo! On the day of the event, you can refer back to this photo to make setup a breeze!
Customer Experience
Beyond the first impression you'll make with your branding, how else can you consider customer experience? Your booth will welcome the most interested buyers, as well as new people who are just meeting your business for the first time. So, make it easy for everyone to shop and browse without obligation.
Lindsey Barney has a handful of ideas to create a memorable customer experience! She suggests:
Keep prices under $50 if possible and have low-to-high items.
If you can sell at a big event such as a Christmas market, it helps to offer stocking stuffers or other items that your audience is there specifically shopping for.
Bring snacks, water, and something to work on! I love watching artisans do their craft at trade shows.
Greet your guests and make them feel comfortable as they are stopped at your booth- don't be pushy, give them their space to have time to look at your wares, and don't stare at them awkwardly. This is where it helps to have something to work on.
Think about packaging - are you going to provide a small bag for customers to carry the wares in? Is it breakable? Do you need to have tape and tissue paper or bubble wrap to keep it safe?"
I love Lindsey's idea of bringing a project to work on while at your booth! I also suggest having a way to collect email newsletter signups. I have done this with a clipboard at my checkout area, and I think this is a great way to grow your business. Someone may not be ready to purchase the first time they are introduced to your brand, but may want to receive your email newsletters so they don't miss the opportunity to shop with you in the future. Don't miss their business by not having a way to collect their contact info!
Logistics
The logistics of selling products in person can vary depending on where you will be selling. Find out as much info about the venue ahead of time as you can, so you know how to prepare.
How will you collect payments? I suggest offering a variety of ways to pay. In the past, I have accepted cash, credit cards with an electronic reader, or PayPal payments. Make sure that your pricing includes sales tax as well as any transaction fees.
Lindsey also pointed out that it's great to have a cash box with $100-300 dollars worth of small bills and an ample amount of change. If selling through Venmo, print out the scan code and put it somewhere visible so it's easier to scan and pay.
Depending on the venue, you may have access to power or the internet. Even if those are promised, I've found that wifi can be spotty or your booth may be placed too far from outlets to use them, so it's a good idea to be prepared for those situations. Bring an extension cord, a backup phone battery pack, and cash with small bills for change. If you're using a card reader, make sure it's fully charged, and loaded with the inventory you're bringing, and make sure you have practiced using the device.
I've found that packing everything in clear tote bins is very helpful. You can see everything in them, they're easy enough to carry and can be stowed under a table during your event. Make sure you have a way to move and carry all of your supplies and inventory. Bring a friend to help, or make sure you can carry everything yourself. You might have to park far from your display, so it's great to bring a cart for those situations!
As you can see, there is a lot of work that goes into creating a memorable craft show booth, but in my experience, it is worth it! If you typically sell products online, you don't get to know and see your customers. In person, it's incredible to be able to meet them and get a better understanding of who your customer is and what they are looking for. And, it's FUN!
Thank you to Lindsey for sharing some great tips for selling at craft shows. If you enjoyed Lindsey's tips, you can keep up with her at Western Wildflower Studio and on Instagram (you'll definitely want to follow her as soon as you see her beautiful patterns and illustrations!)
If you have any ideas you'd like to share for creating a successful craft show booth, I'd love to hear them in the comments below!