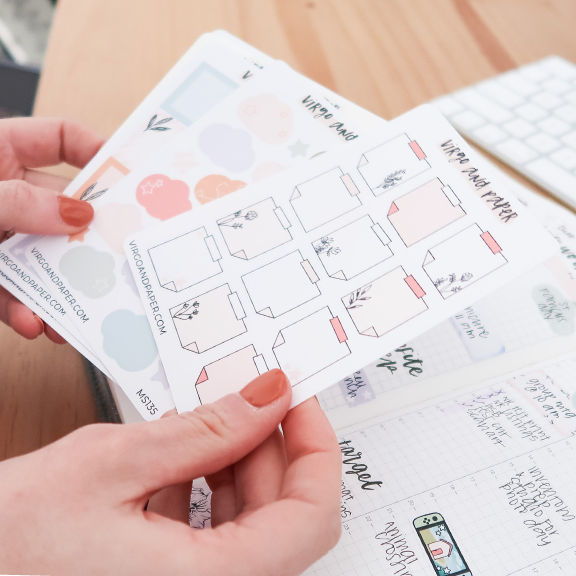 A new look for Virgo and Paper
I'm soooo excited to finally share my new brand and website with you after a couple months of working on it. I'd love to share a little bit of my mindset behind updating my branding.

When I designed my original logo and brand elements, it was late 2017 (I don't remember the exact date) and Virgo and Paper was a small planner sticker shop on Etsy. I didn't really have a vision for where V&P was going in the future, but it was starting to grow into a full time business as I was just figuring out my style as an artist and designer.

As you can imagine, a ton has changed in the past few years! In June 2018, I formed my LLC and really stepped into taking my business seriously as a career. I moved Virgo and Paper off of Etsy onto my own website, which was a scary step at the time but has lead to growth that just wasn't possible with an Etsy shop.

I love making planner stickers but I've always wanted to do bigger things with my art as well. I just wasn't really sure what form that would take until 2020. I started learning more about designing patterns in the process of creating stickers. After taking a surface pattern design class, I realized that licensing my artwork and pattern designs is the obvious next move for me.

While I am still working on a portfolio page to share my artwork here (coming soon!), this brand update sets up a great foundation for both planner stickers and my other creative work. I feel really excited about this refreshed look and most importantly, I feel confident sharing this new platform I've made.
I filmed some of the last couple days of preparing my new website for launch, and it's now on my YouTube channel as a fun behind the scenes vlog!
I hope you enjoy V&P's new look as much as I do. Please comment below and let me know what you think! I know many of you have been around Virgo and Paper since it was just a small Etsy shop, and I'm so grateful for you "sticking" with me all this time.
Grateful for your support,